Group Therapy
Group therapy provides a safe, supportive environment where people can engage with others who may be working on dealing with similar challenges, concerns, or issues.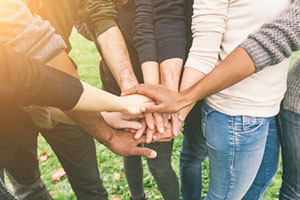 Facilitated by a licensed therapist from Our Team, group therapy will bring together a small group of people who are encouraged to share their experiences, provide feedback to others and ultimately find support in each other to grow and improve their lives.
At Alder Grove, our group therapy services may be the focus of your treatment, or they may be used as part of a multidisciplinary approach aimed at putting you on a path to wellness.
Benefits of Group Therapy
Participating in group therapy can offer a number of benefits to our clients, some of which may include:
More access to feedback: In a group setting, sharing your experiences and concerns can give you the opportunity to receive feedback from others who may have different perspectives and feedback. This can help shed new light on certain issues and provide deeper insights into them, which can foster growth and productive change.
Support from others: Having the support of more people than just a therapist can be essential to helping some people feel less alone. It can also be important in letting people know that others care and are dealing with some of the same issues or challenges they may be facing.
Role models: People in group therapy may be at various stages on the path to wellness and healing. For people just starting out on their journey, a group therapy setting can provide them with role models and support figures who can show them new ways to cope with certain issues, challenges or behaviors. Role models can also be essential in giving people hope that real change and healing is possible.
The opportunity to provide others with insight and advice: Group therapy is not only a place to receive feedback and advice. It can also be a place where you can give this back to others. Being able to share your experiences and help others can be an empowering, positive experience that can enhance your confidence and self-esteem as you continue on your own journey towards wellness.