Bailie J. Cronin, MS, PMHNP-BC
Family Psychiatric Mental Health Nurse Practitioner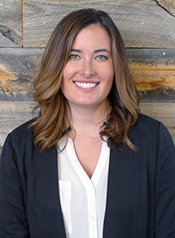 Education:
Masters in Nursing (MSN)
– University of Colorado, College of Nursing
Bachelor of Science in Nursing
– University of South Dakota
Bachelor of Arts in Spanish
– University of South Dakota
Focus Areas:

Providing comprehensive, integrative care and medication for the treatment of:
Mood Disorders including Depression and Bipolar Disorder
ADHD
Anxiety
PTSD
Eating Disorders
Substance Abuse and Dependence
Behavioral Issues
Bio:
Bailie J. Cronin is a masters prepared, board-certified psychiatric mental health nurse practitioner with prescriptive authority. She treats children, adolescents, young adults, adults, and families. Bailie forms a collaborative interdisciplinary relationship with her patients and other members of their healthcare team to help treat depression, anxiety, attention problems, trauma, bipolar disorder, behavioral issues, addiction, emotional disturbances, eating disorders, sleep problems, suicidal thoughts, and troubled thought patterns.
Bailie strongly believes that the best treatment combines medication, therapy, and lifestyle alterations. She offers a holistic approach to mental healthcare, looking at lifestyle choices including activity level, nutrition, and sleep patterns. In addition, she is able to conduct genetic testing to help take the guesswork out of which medication will work best for you.