Daya Gohil, APN, PMHNP-BC
Psychiatric Mental Health Nurse Practitioner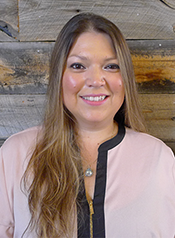 Education:
Masters in Nursing (MSN)
– University of Colorado, College of Nursing
Bachelor of Science in Nursing
– University of Colorado at Colorado Springs, Bethel College of Nursing
Bachelor of Arts in Psychology
– University of Colorado at Colorado Springs
Focus Areas:

Personalized treatment for patients with mental illness of diverse psychiatric needs throughout the lifespan.
Spanish speaking patients w/ mental health illness
Mood disorders
Psychosis
Anxiety and others
Bio:
Dayanara Gohil is a Master's-prepared, board-certified family psychiatric mental health nurse practitioner. She has full prescriptive authority in the state of Colorado. She treats patients through the lifespan—from children to adults—and is fluent in Spanish.
Dayanara strongly believes that recovery is multifaceted and that a combined treatment modality of medication, therapy, and lifestyle alterations is needed. She practices in a collaborative interdisciplinary approach with other members of the health care team to tackle mental illness. She forms a partnership with the patient to help develop an individualized treatment plan based on a biopsychosocial evaluation.
Dayanara offers a holistic approach to mental healthcare and has a conservative approach when it comes to use of controlled substances.
– Contact Daya Gohil
– See Daya's rates
---
Testimonials
"In the short time of working with you, my mental health has improved so much that my life has dramatically changed for the better."
– Client of Daya Gohil
"Thank you so much for taking the time to listen to me. I did not think it was possible for me to feel like myself again. It had been so long. Thank you, thank you, thank you!"
– Client of Daya Gohil