Holly E. Vause, DNP, PMHNP-BC
Family Psychiatric Mental Health Nurse Practitioner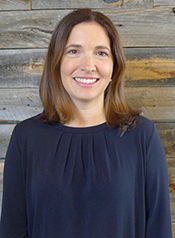 Education:
Doctor of Nursing Practice (DNP)
– University of Colorado, College of Nursing
Masters in Nursing (MSN)
– University of Colorado, College of Nursing
Bachelor of Arts
– Middlebury College
Focus Areas:
Integrating lifestyle and nutritional supports in addition to/instead of medications for treatment of:
ADD/ADHD
Depression
Anxiety disorders
PTSD
Bipolar disorder
Eating disorders
Bio:
Holly E. Vause is a board-certified, psychiatric mental health nurse practitioner. She maintains a comprehensive focus to care, including brief psychotherapy and prescribing mental health medications if indicated, for children, adolescents, and adults.
Her ongoing areas of interest include integrating targeted dietary changes, physical movement and improved sleep practices as foundations for care. Overall Holly tends to be more conservative in her prescribing practices, especially in regards to prescribing controlled substances such as benzodiazepines.
She is an assistant professor at the University of Colorado College of Nursing in the graduate school in the Psychiatric Mental Health Nurse Practitioner Program. Before transitioning to private practice, Holly worked on the psychiatric inpatient, psychiatric day treatment and eating disorder units at Children's Hospital Colorado.
She has co-authored articles that have been published in the American Journal of Psychiatry and The Nurse Practitioner. She has a deep interest in prevention of mental illness and promoting mental wellness.
– Contact Holly E. Vause
– See Holly's rates
---
Testimonials
"I left feeling so much better then when I came in. She is amazingly helpful. She actually took the the time to listen to what I said, and was kind and genuine in her feedback. Would highly recommend!"
– Client of Holly Vause
"Holly was really great. I have seen quite a few doctors over the years and she is easily the first one that I have felt wholly comfortable with."
– Client of Holly Vause
"Very understanding, patient and caring. Just what I was looking for."
– Client of Holly Vause
"Holly Vause was easy to talk to. She listened and I felt we were on the same page as far as diagnosis, medication."
– Client of Holly Vause