Jessica Fynboh, MSN, PMHNP-BC
Psychiatric Mental Health Nurse Practitioner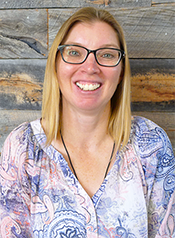 Education:
Masters in Nursing (MSN)
– University of Colorado, College of Nursing
Bachelor of Science in Nursing
– University of Northern Colorado
Associates in Nursing
– Fort Morgan Community College
Focus Areas:
Individualized treatment for patients with varied psychiatric needs. Experience with all ages, including: 

Children
Adolescents
Adults
Bio:
Jessica Fynboh is a board-certified psychiatric mental health nurse practitioner. In 2016, she received a specialty certification in psychiatry from the American Nurses Credentialing Center. She holds a board certification in the state of Colorado and carries full prescriptive authority in Colorado in accordance with the new prescriptive authority rules (dated 11/14/15).
Jessica's previous experience as an advanced practice registered nurse includes work at a private practice as well outpatient care at the Porter Adventist Hospital Centre for Behavioral Health. As a registered nurse, Jessica worked at the Colorado Mental Health Institute at Fort Logan, the Medical Center of Aurora, and Centennial Peaks Hospital. Jessica also worked as a correctional nurse at Adams County Detention Center.
Jessica grew up in Colorado where she has lived for more than 30 years. She is married and enjoys bike riding, hiking, and walking.