Marianne Webb, MSN, PMHCNS-BC
Adult Psychiatric Clinical Nurse Specialist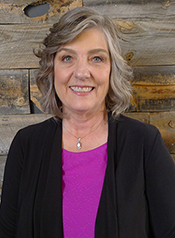 Education:
Bachelor of Arts, Psychology
– University of Northern Colorado
Bachelor of Science, Nursing
– University of Colorado, College of Nursing
Master of Science, Psychiatric Nursing
– University of Colorado, College of Nursing
Focus Areas:
Adults and older adults
Depression
Anxiety
PTSD
Bipolar disorder
Schizophrenia
Schizoaffective disorder
Bio:
Marianne Webb is a board certified psychiatric clinical nurse specialist with prescriptive authority. She has worked as a nurse and as an advanced practice nurse in Colorado throughout her career. Prior to joining Alder Grove, she worked in administrative and clinical positions in many mental health agencies, including inpatient, outpatient, and private practice settings. Marianne has also been a clinical instructor for both undergraduate and graduate nursing students at the University of Colorado, College of Nursing.
Marianne has been prescribing mental health medications for over 15 years and enjoys working with adults and older adults who have a variety of problems and concerns. Marianne values the opportunity to become a partner with clients in their health and mental health. Although Marianne appreciates the importance of medications for mental health concerns, she thinks that it is most helpful to combine medications with other holistic intervention. She values helping clients incorporate nutrition, exercise, social, and spiritual approaches in managing their mental health.
Overall, Marianne tends to be more conservative in her prescribing practices, especially with respect to prescribing controlled substances such as benzodiazepines and stimulants. She provides brief psychotherapy, but also enjoys referring clients to therapist colleagues in the community. Marianne is a Colorado native and has worked in mental health in Colorado for over 30 years. She enjoys collaborating with and referring clients to an extensive network of outstanding colleagues who employ a variety of effective and innovative treatment modalities for psychotherapy.
Marianne enjoys spending her free time camping, hiking, and having fun with dogs, horses, and family.